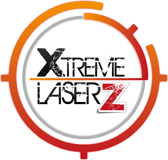 Outdoor Laser Tag in Durham
Forget what you thought of laser tag until now!
A RESERVATION IS REQUIRED – PLEASE CALL US at 919.596.6100
or book online below
Buy Tickets
Hours of operation
Saturday & Sunday: 10:00 am – 5:00 pm
Monday - Friday: 10:00 am – 4:00 pm
For reservation call at 919 596 6100
If you wish to come at other times, please call us and we will accommodate your needs.
Celebrate your birthday!
Choose one of our Birthday Party Packages, starting from ages 3+
Laser Tag Pricing
Our prices are competitive with other fields. But we are also reasonable and the larger your group is the better deal you will get! CALL US for our SPECIAL PROMOS! – we run new ones every month!
1 hour of Lasertag
Private Instructor
Lasertag Guns
per person (6 -9 PLAYERS)
1.5 hours of Lasertag
Private Instructor
Lasertag Guns
per person (6 -9 PLAYERS)
This activity is by reservation. You are free to show up at the park and do it but we can't guarantee we will have the staff and the time without prior reservation. Highly recommended you call in advance. Regardless we will do our best to accommodate your needs.
Laser Tag Discounts
We offer specially-priced group tickets, up to 50% off in discounts! We offer lasertags discounts for military personnel, church groups, bachelor parties, and birthday parties. For detailed information, prices and tickets, please go to the DISCOUNTS section
Did you know?
At Xtreme Park Adventure we acquired the most sophisticated Laser Tag equipment. Forget what you thought of Laser Tag until now. This is the ultimate experience. Even military groups are training with it! No more psychedelic lights, and glow in the dark tubes, and flashing cheesy lights. 
Xtreme LaserZ is an OUTDOOR adventure. You can play during the day under a shining sun and experience the same playing experience as paintball but without the pain or the bruises.
Waiver
At Xtreme Park Adventures we require everyone to have a signed waiver for all our activities.
Questions About Laser Tag?
Xtreme Park Adventures is the ultimate destination in the Durham area for laser tag.
For any doubts, please refer to our Frequently Asked Questions. do not hesitate to contact us or call us at 919 596 6100