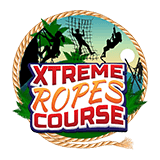 Do you have a passion to be challenged? What about an undeniable urge to conquer great heights as you climb a three-story tower underneath a scenic forest canopy? With our Ropes Course in the Raleigh-Durham area, Xtreme Park Adventures offers a challenging outdoor climbing experience that gives you all of that and more, guaranteeing a morning or afternoon of ear-to-ear smiles and an unwavering sense of accomplishment.
Wondering exactly what our Raleigh Ropes Course is all about? Here's why we're the top Ropes Course experience in North Carolina, drawing in adventurous adults, co-workers and children alike to the Raleigh-Durham Triangle.

What is the Xtreme Park Adventures Ropes Course, and how much does it cost in Raleigh-Durham?
Our high ropes course takes thrill-seekers through a self-guided journey on a three-level circuit, meaning you get to experience over 35 challenges as you ascend three stories from the forest floor to the treetops. As you conquer each level, you'll notice that the ropes course becomes more challenging the higher and higher you go. Dangle, leap, propel, scale and climb your way through our one-of-a-kind experience as you explore the trees (and your adventurous side) from a truly unique perspective.
Safety is always a top priority at the Xtreme Park Adventures Ropes Course in North Carolina, which is why we use the safest attachment system on the market for our self-belay equipment. With the SmartSnap system, the user must lock in a second connector when moving from one element to the next before the first connector can be unlocked. Pretty cool, right?
At Xtreme Park Adventures in North Carolina, we offer two ropes course packages: a 1-hour package and an unlimited access package. Our 1-hour package is $28, while our unlimited access package is $34. We also offer specially priced ropes course group tickets, military and student ropes course tickets and more, with up to 50 percent off in discounts. Visit our discounts section for the latest savings on our Raleigh ropes course!
When should you visit Xtreme Park Adventures to experience our Raleigh Ropes Course?
Located off Wake Forest Highway in Durham, N.C., our Ropes Course is not your typical aerial adventure experience. Our Ropes Course is designed to challenge, inspire, promote teamwork, encourage critical thinking and more. Here's a few of the reasons why our visitors have visited our Ropes Course experience in Raleigh-Durham!
School field trips
Corporate team building
Company parties
Birthdays
Bachelor/Bachelorette events
Family reunions
Parent/child bonding
Special events
Just because
Our ropes course experience is open Monday through Friday from 10 a.m. to 6 p.m., and Saturday and Sunday from 10 a.m. to 4 p.m. However, if you can't join us during those times, we're happy to accommodate your scheduling needs. Due to staffing and equipment, we do require a reservation for all visits to our ropes course serving Raleigh, Durham and the surrounding area. Call us at (919) 596-6100 or book online today!
After booking your reservation, get ready to swing from the treetops by signing our ropes course waiver here! We look forward to your visit to Xtreme Park Adventures in North Carolina!