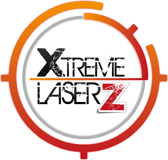 Laser Tag near Pittsboro
A more realistic paintball experience awaits!
A RESERVATION IS REQUIRED – PLEASE CALL US at 919.596.6100
or book online below
Buy Tickets
Hours of operation
Saturday & Sunday: 10:00 am – 5:00 pm
Monday - Friday: 10:00 am – 4:00 pm
For group events and special occasions, we can provide off-hours play - just call us and we will do our best to accommodate your needs.
Birthday Party Package
Plan an unforgettable birthday party  at Xtreme Park Adventures with Airsoft, Laser Tag, Paintball, Gel Blaster or Rock Climbing!
Laser Tag Pricing
Our goal is to provide an awesome laser tag experience at an incredible value to our guests! CALL US for our SPECIAL PROMOS! – we run new ones every month!
1 hour of Lasertag
Private Instructor
Lasertag Guns
Outdoor laser tag is only available through reservation. Make sure you call in advance to ensure there's a field available!   
Pittsboro Laser Tag Discounts
In addition to special promotions, we also offer group discounts for corporate team building events, church groups, bachelor parties, and more. Check out our  DISCOUNTS section for more money saving opportunities!
Our Sophisticated Laser Tag Gear
Up until recently, laser tag took place in the dark with strobe lights and neons as lighting. Not very realistic and very distracting! Now, we're excited to give laser tag a much needed update with our innovative gear that lets us take the game outside.  
Xtreme LaserZ is an opportunity to play laser tag outdoors, even in the bright sunlight so you can experience a fun but realistic experience without painful contact! With laser tag gear that looks and feels more like the "real thing," we're using the same stuff that military and law enforcement groups use for training –  No cheesy lights, no strobes, no black light decor.
Xtreme Park Adventures Laser Tag FAQ
What is outdoor laser tag?
Outdoor meaning you are playing out in the open, unlike the traditional laser tag places where you are in a dark indoor room.
Can you play laser tag in daylight?
Yes, our technology lets you play lasertag in the open and during dylight
What should you wear to laser tag?
You can wear any type of clothing to play laser tag EXCEPT for open toed shoes. We recommend wearing something comfortable with closed toed shoes.
How many players do you need for laser tag?
At least 2, but it's lots of fun with 6 or more!
Is there an age restriction?
Yes, laser tag players must be aged 6+
How long do the laser tag games last?
Are there any objective based game modes?
Yes, call us at (919) 646-4072 for more information on the types of laser tag scenarios available
Can we play laser tag in the rain?
No – very light drizzle only
What is the laser tag arena like?
There are lots of containers and props that make the laser tag arena look like a shipyard.
Does a staff member help run the party?
Yes, all of our activities have a host to help you set up and have the most fun possible.
Waiver
At Xtreme Park Adventures we require everyone to have a signed waiver for all our activities.
Reserve Your Laser Tag Field!
Xtreme Park Adventures is the ultimate destination in the Pittsboro area for laser tag.
If you have any concerns, check out our Frequently Asked Questions. Reserve your spot today by calling 919 596 6100